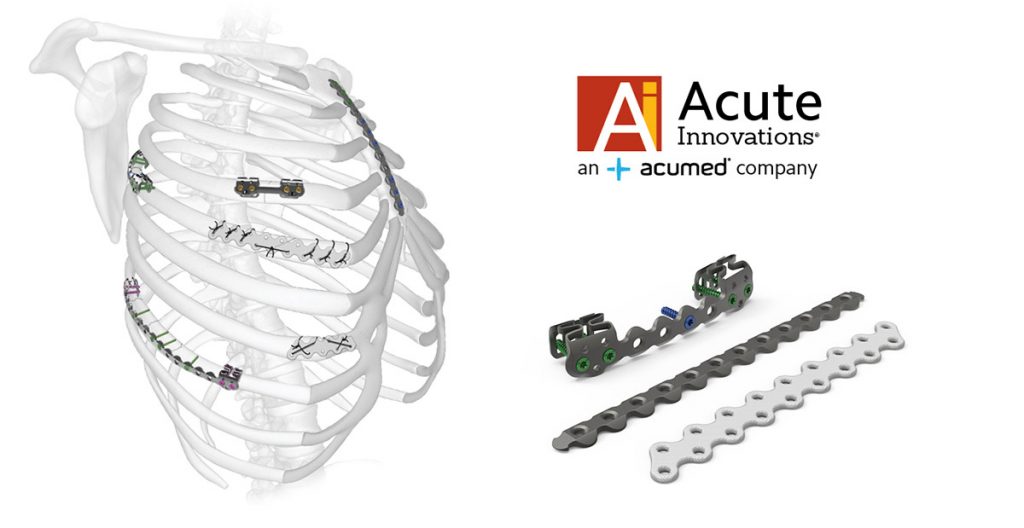 Acumed Welcomes Acute Thoracic Products to its Portfolio of Orthopaedic Solutions
Acumed is excited to welcome Acute Innovations, a manufacturer of innovative solutions for challenging traumatic chest wall injuries, to join us in developing industry-first products and sharing our commitment to Education, Evidence, Innovation, and Quality. The Acute product portfolio specifically offers surgeons solutions to address rib fractures associated with traumatic injury, as well as technologies for chest wall reconstruction.
Acute's thoracic solutions will be integrated into the operations of Acumed to fully leverage the infrastructure and optimize best practices in quality affairs, marketing, medical education, manufacturing, and finance. The Acute product line has enjoyed robust growth through its innovative and clinically compelling solutions: the RibLoc chest wall plating system, the BioBridge resorbable chest wall stabilization plate, and the AcuTie II sternum closure system.
"Acute Innovations has observed solid growth and clinical support in its family of products. The integration within Acumed will immediately recognize operational synergies. This integration allows Acumed to expand on the delivery of these premium products to all of our surgeon customers in general trauma, orthopaedic trauma, and thoracic surgery," commented Jagi Gill, Vice President of Business Development for Acumed.
Sharon Wolfington, President and CEO of Acumed, added, "Over the past 30 years, Acumed has earned a reputation for delivering innovative and high-quality extremity fixation products. The addition of rib fracture fixation and chest wall stabilization and reconstruction products will further enhance our ability to support surgeons who treat patients in their time of need."