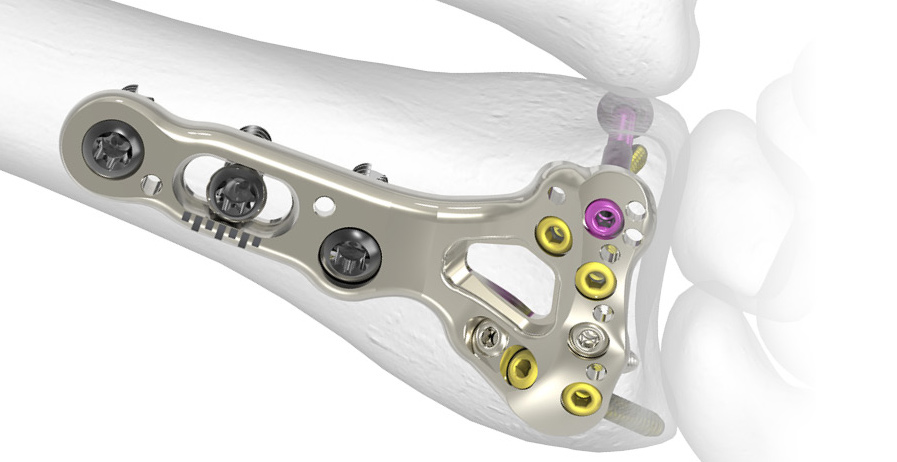 Providing Fixation for Half a Million Wrists
Acu-Loc® and Acu-Loc® 2 Wrist Fixation Implants Reach 500,000 Worldwide
The Acumed Acu-Loc Volar Distal Radius (VDR) Plate has been a fracture fixation market leader since its introduction in 2004. The Acumed Acu-Loc 2 VDR Plate was launched in 2010, and recently the number of Acu-Loc and Acu-Loc 2 VDR plate sales reached half a million worldwide.
The Acumed Acu-Loc 2 Wrist Plating System is a comprehensive system designed to treat multiple fracture patterns of the distal radius and distal ulna.
Randy Bindra, MD, FRCS, said, "The reason I like the Acu-Loc 2 system is it is a comprehensive system that allows me to manage the simplest to the most challenging distal radius fractures."
Features of the system include:
Multiple plate families allow for proximal or distal plate placement
Second-generation plates feature optimized geometry for enhanced fracture management
Three types of extension plates, allowing up to 176 mm of length
Fragment-specific plates, including distal ulna plates
An available wrist spanning plate is designed to temporarily hold the wrist out to length during fracture healing
Together, the system offers orthopaedic surgeons a total of 48 different wrist plating options.
The Acu-Loc 2 plates are designed to allow either intra-articular or extra-articular fracture management and are anatomically precontoured to assist in restoring original geometry.
Screw options in the system include:
Fixed-angle screws and pegs designed to provide targeted subchondral bone support
Diverging screws engineered to provide pullout resistance
2.3 mm locking variable angle screws designed to aid in the capture of specific fragments and to accommodate variations in patient anatomy
Enhancements to the original Acu-Loc system include a patented locking compression screw and innovative instrumentation:
The Frag Loc® Compression Screw is a unique, two-part cannulated compression screw designed to compress dorsal fragments. Traditional distal radius volar plating systems rely on screw fixation with the intention to bring dorsal cortical fragments together. The Frag-Loc Compression Screw is designed to offer dorsal compression and a surface area under the screw heads that caan encompass several fragments. Moreover, only a small incision dorsally is required to implement this device.
Patented radiopaque positioning posts within the radiolucent targeting guides assist with plate and screw positioning to avoid the joint space. Kickstand posts also assist with plate positioning and fragment reduction.
A plate positioning handle facilitates Acu-Loc 2 VDR plate placement while keeping the surgeon's hands out of the fluoroscopy beam. The handle is used to help place the proximal shaft of the plate in alignment with the center axis of the radial diaphysis.
The Acu-Loc 2 Wrist Plating System is part of Acumed's market-leading fracture solutions for the hand and wrist, including but not limited to: metacarpal and phalangeal fractures, fusions, and osteotomies (the Hand Fracture System), fractures of the scaphoid (Acutrak 2® Headless Compression Screw), limited and total wrist fusion plating systems (Hub Cap® plates and Total Wrist Fusion Plating System), and ulnar osteotomies (Ulna Shortening Plate). A wrist traction tower, bone distractor, and external fixator are also available for the hand and wrist.
About Acumed
Acumed LLC is a global leader of innovative orthopaedic implant solutions. Founded in 1988, Acumed is headquartered in Hillsboro, Oregon, with offices and a distribution network around the world. Acumed is dedicated to developing products, service methods, and approaches that improve patient care.
Availability
These materials contain information about products that may or may not be available in any particular country or may be available under different trademarks in different countries. The products may be approved or cleared by governmental regulatory organizations for sale or use with different indications or restrictions in different countries. Products may not be approved for use in all countries. Nothing contained on these materials should be construed as a promotion or solicitation for any product or for the use of any product in a particular way which is not authorized under the laws and regulations of the country where the reader is located. Specific questions physicians may have about the availability and use of the products described on these materials should be directed to their particular local sales representative. Specific questions patients may have about the use of the products described in these materials or the appropriateness for their own conditions should be directed to their own physician.
For more information
Santana Galaviz 503.207.1514