PRO: Professionals Reaching Out Lecture Series
Our virtual learning series features Professionals Reaching Out (PRO) to share their pearls and tips learned from decades of experience, highlight the latest research and publications, and lead case discussions that will help enhance your toolbox for addressing problem indications in the future.
Management of Proximal Ulna and Radial Head Fractures
Wednesday, April 21, 2021
9:00 PM Seoul / 8:00 PM Taipei / 1:00 PM London | 8:00 AM New York
Marc Richard, MD
Biao Zhong, MD
Join our esteemed faculty, Dr. Marc Richard and Dr. Biao Zhong, as they review common fractures of the radial head and proximal ulna, including olecranon and coronoid fractures. Dr. Richard will share his insights in treating the proximal ulna while Dr. Zhong focuses on radial head fractures. Each will discuss their strategies and surgical techniques for successful treatment of these injuries. We hope you can attend!
Complex Injuries of the Foot
Tuesday, May 4
4:00 PM - 5:00 PM PDT
Join Acumed/OsteoMed for a faculty-led webinar exploring complex injuries of the foot. Utilizing case discussions, Dr. Adelman will provide his experience and expertise on treating Forefoot, Midfoot and Hindfoot injuries.
Ronald Adelman, DPM, FACFAS
Dr. Ronald Adelman is board-certified in Podiatric Medicine and Primary Podiatric Medicine. He earned his degree in podiatric medicine from Kent State University College of Podiatric Medicine in Independence, OH and completed his residency in podiatric surgery at Detroit Receiving Hospital.
Rib Fracture Plating and Patient Selection
Tuesday, May 11 2021
2:30 PM PDT / 5:30 PM EDT
Please join us for an insightful overview of surgical stabilization of rib fractures presented by Dr. Francis Ali-Osman. Dr. Ali-Osman will be sharing his philosophy on rib plating and injury management from patient protocol to pain management.
Dr. Ali-Osman is Trauma Medical Director and Chief of Surgery at Carondelet Health in Tucson, AZ, and current Vice President of the Arizona Trauma Association.
Proximal Humerus Fracture Management
Tuesday, May 11, 2021
4:30 pm PDT / 7:30 pm EDT
Please join us as we learn from Dr. Claudio Moraga about the options for treating simple and complex proximal humerus fractures.  Dr. Moraga will discuss treatment options and criteria, implant options and selection process, surgical approaches, and tips and pearls.
The target audience for this event is residents, fellows, and practicing physicians with less than 3 years' experience; however, all are welcome to attend!
This event will be presented in Spanish.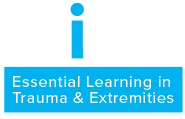 Acumed ELiTE Lecture Series
Introducing a unique opportunity to participate in our ELiTE Lecture series from the comfort of your home or office! Our ELiTE Resident and Fellow Training Curriculum was designed by surgeons for surgeons, specializing in procedures for the entire upper extremity, from hand to shoulder.
The courses are intended to supplement the hand-to-shoulder training that residents and fellows receive in their current program curriculums. While this series is normally reserved for in-person training, we are offering residents and fellows the opportunity to attend ELiTE courses virtually and continue their learning during these difficult times.

ELiTE Advanced – Hand Fractures
Tuesday, April 20, 2021
5:00 PM PST / 8:00 PM EST
Jerry Huang, MD
Jason Strelzow, MD
Dr. Huang will discuss Hand Fractures | Surgical Management of Hand Fractures and Metacarpal & Phalangeal Malunions and Nonunions, while Dr. Strelzow will guide attendees through a live cadaveric dissection and provide an in-depth look at Hand Fracture Fixation: Phalangeal Shaft & Head - Dissection and Exposure, as well as Metacarpal Fracture Exposure and Fixation.
This course is intended for PGY 5 & Fellows, however all are welcome to attend.
More ELiTE courses coming soon.