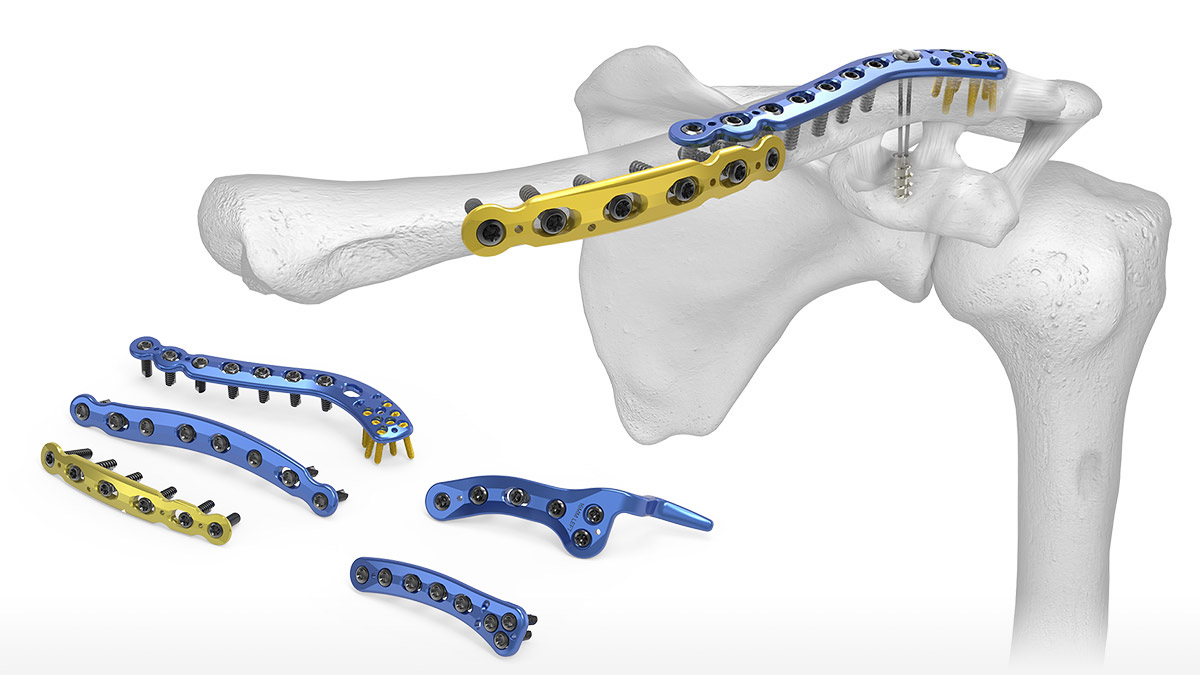 Product Overview
The comprehensive Acumed Clavicle portfolio includes 57 total plate options to treat a variety of fractures and fracture-dislocations of the clavicle. The Clavicle Plating System offers low and narrow-profile plate solutions that are precontoured to match the natural shape of the clavicle. The Acu-Sinch® Repair System used in conjunction with Clavicle Plating System, as well as Clavicle Hook Plating System, both offer additional treatment options for acromioclavicular injuries and lateral clavicle fractures.
The Acumed Dual-Trak Clavicle Screw System complements  our plate offerings with several intramedullary options to treat diaphyseal fractures of the clavicle.
First to Market With Comprehensive Precontoured Plating Options

33 unique plates—including anterior, superior midshaft, and superior distal options—accommodate varying patient anatomy and fracture patterns.

Acu-Sinch Repair System

This coracoclavicular anchor penetrates only the superior cortex of the coracoid, preserving the inferior cortex and protecting the neurovascular structures below.

Plate Design

The clavicle plates include a limited-contact design undersurface, tapered ends, and narrow/low profile options, and are made of high-grade titanium and titanium alloy.

Diverging and Converging Screws

Superior distal plates offer up to eight diverging screws for cases where bone stock is compromised. The screw configuration is designed for the maximum amount of bone purchase and pullout resistance.
(mobile users tap to show/animate)
Video: Acu-Sinch Surgical Technique
An animated version of Acumed's suggested method for implanting the Acu-Sinch Repair System, which is designed to support healing of the coracoclavicular ligaments and can be used in conjunction with the Acumed Locking Clavicle Plate to provide fixation during the healing of clavicle fractures.
More videos featuring this product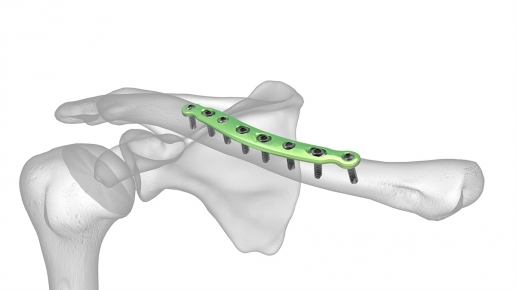 Acumed Superior Midshaft Plates offer an array of plate options for superior midshaft clavicle fractures, malunions, and nonunions. 16 plates in 8 lengths and 2 different widths provides the surgeon with a comprehensive plating system. In addition, the design of the plates and their orientation to the clavicle provides biomechanical stability.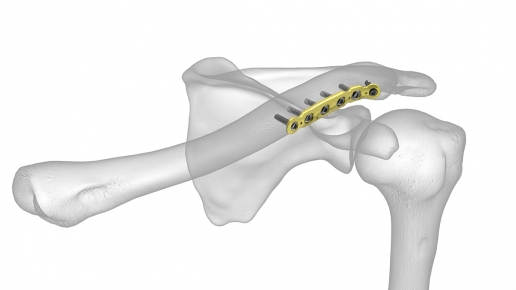 The Acumed Anterior Clavicle Plate is designed for surgeons who prefer an anterior approach to treat malunions, nonunions, and fractures of the medial, midshaft, and lateral third clavicle. These anatomically contoured plates increase screw purchase in the clavicle and act as a template to aid with anatomic restoration. In addition, the low-profile design may help minimize postoperative soft tissue irritation. Five Anterior Plates are designed for complex oblique fracture patterns as well as for surgeons who prefer an anterior approach.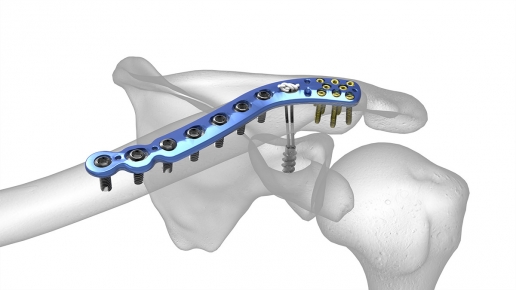 The Acumed Distal Clavicle Plate is designed to provide fracture fixation and stability for lateral third clavicle fractures, malunions, and nonunions, and where there is disruption to coracoclavicular (CC) ligaments. Multiple distal screw configurations are designed to achieve construct stability, while screw positioning targets distal fragments to provide secure, stable fixation for multiple fracture patterns.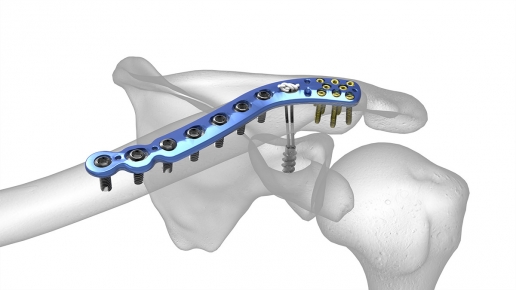 The Acu-Sinch Repair System is designed to complement the Clavicle Plating System by treating coracoclavicular (CC) ligament injuries associated with clavicle fractures. This suture-and-anchor soft tissue repair system offers the surgeon the ability to penetrate only the superior cortex of the coracoid, preserving the integrity of the inferior cortex, and protecting the neurovascular structures below.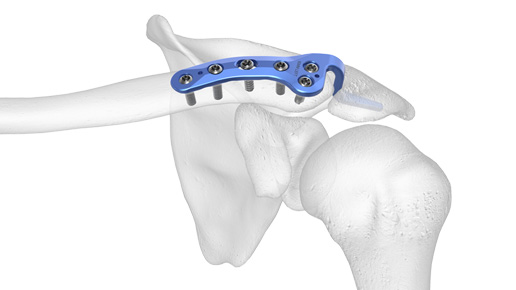 Acumed Clavicle Hook Plates are intended for fixation of lateral clavicle fractures, osteotomies, malunions, nonunions and dislocations of the acromioclavicular joint. Clavicle Hook Plates are available in 4 lengths and 3 hook depths.
Patient History: The patient is a 15-year-old male, who presented with severe pain to the medial portion of the clavicle following a motor vehicle accident. He sustained a direct blow to his chest when it hit the steering wheel. Physical examination found severe tenting of the skin anteriorly near the insertion of the clavicle to the sternum. A 3D CT scan demonstrated a rare medial clavicle fracture (Figure 1). This only occurs with approximately five percent of all clavicle fractures. 3D CT scans are recommended with medial fractures as anatomic structures may obscure the view of the fracture as seen with regular X-rays.