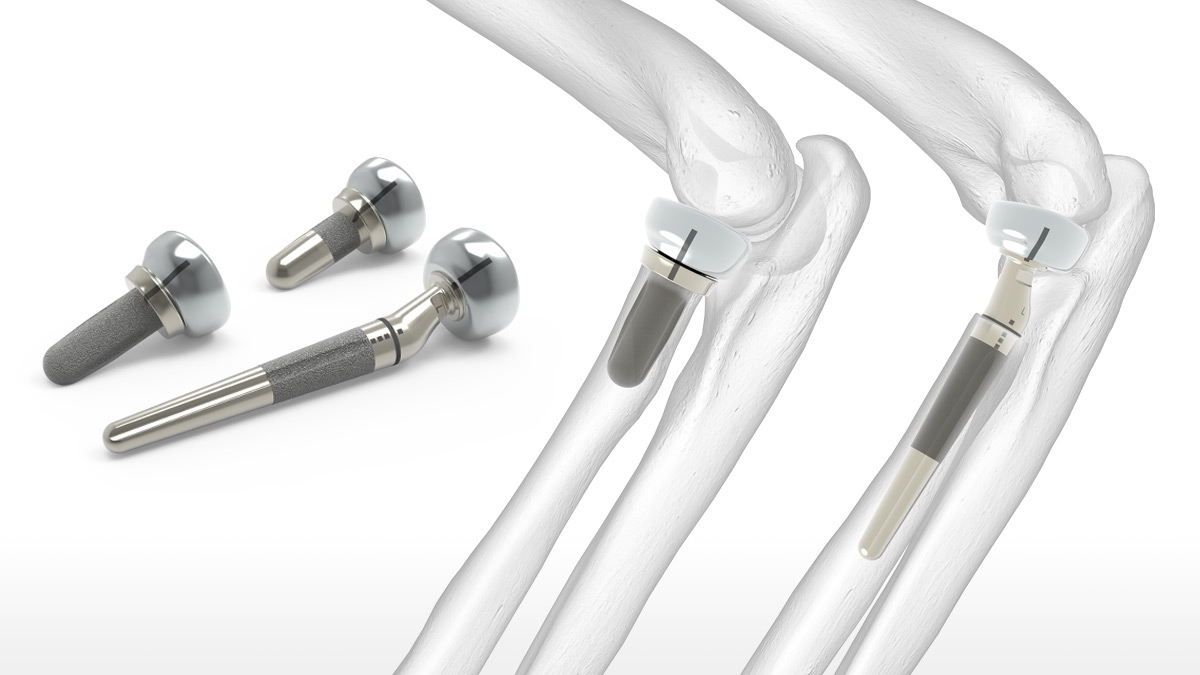 Product Overview
The Acumed Anatomic Radial Head Solutions 2 system is designed to provide an anatomic implant to replace the patient's native radial head.
Designed in conjunction with Shawn W. O'Driscoll, MD, PhD, the Acumed Anatomic Radial Head Solutions 2 system includes 924 head and stem combinations and system-specific instrumentation to help streamline the surgeon's experience in the operating room.

In addition to the Anatomic Radial Head Solutions 2 system, this set may include the Acutrak 2 Mini and Micro instruments and the Radial Head Plating System at the base of the tray to provide multiple solutions all in one set.
Watch a video overview of how the Anatomic Radial Head Solutions 2 system offers expanded head and stem sizes, more straightforward instrumentation, and additional options designed to address fractures, reconstructions, and replacements of the patient's native radial head.
This collection of published literature represents clinical evidence, which along with innovation, education, and quality form Acumed's foundations of excellence. In addition to citing existing scholarly papers, we conduct ongoing clinical research and use this information for validation and continuous improvement to deliver the greatest value to our customers.
Download Key Publications PDF
Originally released in 2006, the prosthesis has been used in thousands of radial head procedures over multiple system generations and product line improvements. More than a decade of research and experience has influenced key refinements to the anatomic properties of the prosthesis.
1. The dish depth increases with head diameter, which is designed to help improve radiocapitellar wear characteristics over nonanatomic heads and the first generation Acumed Anatomic Radial Head.1,2
2. The implant's medial surface is contoured to better replicate the lateral trochlear ridge facet, which may help avoid cartilage erosion.2
3. Contouring of the medial side of the head has been further refined to track against the radial notch of the ulna.2
4. The radial head is available in six sizes ranging from 18 to 28 mm, in 2 mm increments.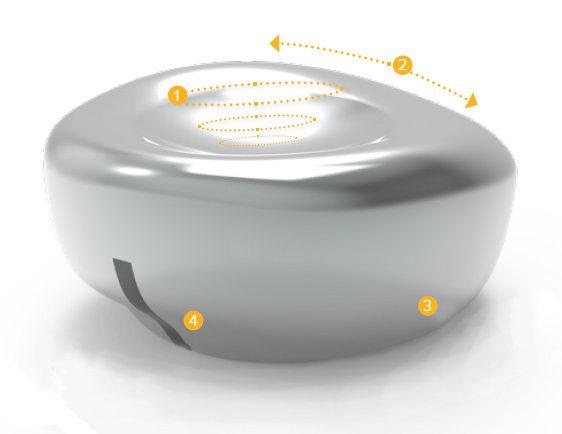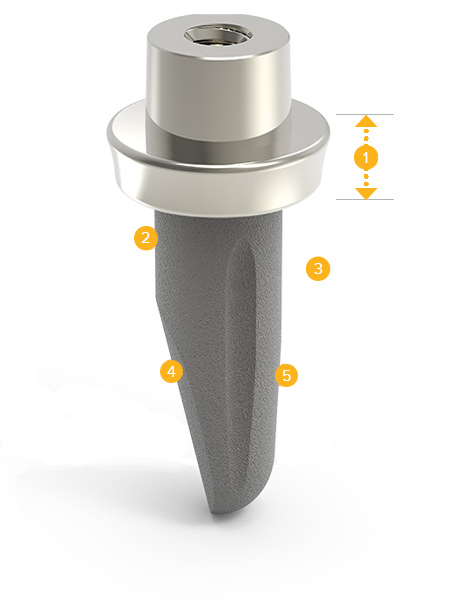 +0–8 mm collar height (2 mm increments).
Grit blast intended to promote bony ongrowth.
Designed for a press-fit application.
6–12 mm stems (1 mm increments).
Fluted stem designed to provide rotational stability.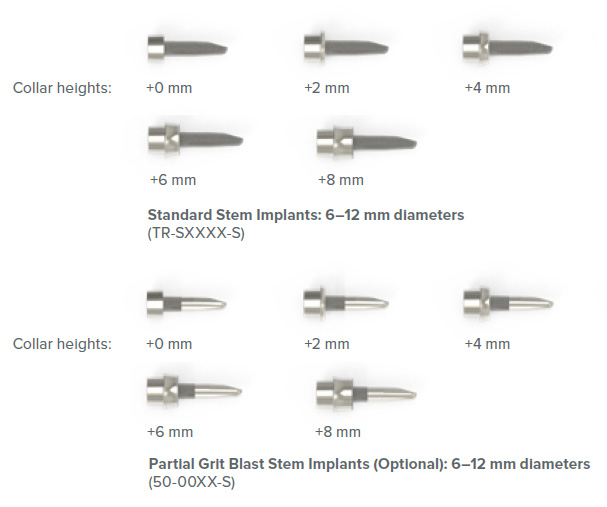 10° neck angle.
Insertion depth.
Hashed laser marks indicate alignment with Lister's tubercle.
5.3 mm.
Grit blast length.
Distal stem length.
Fluted stem designed to provide rotational stability.
Resection length (measured from bottom of dish).
Stem diameter.
Stem length.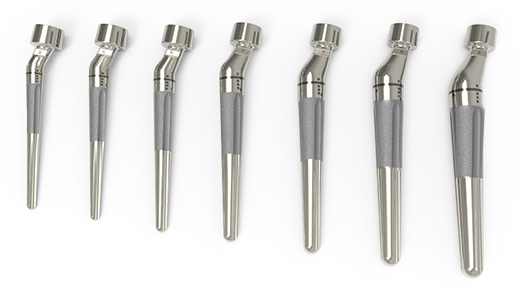 Long Stem Implants: 6–12 mm diameters
(TR-SLXX-S)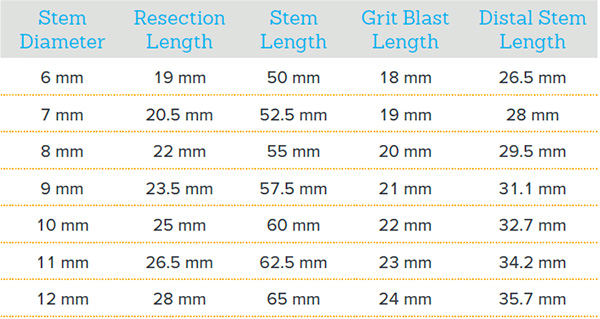 The Anatomic Radial Head System has evolved from the use of broaches to that of reamers for canal preparation. Reamers allow for a 1 mm larger stem diameter and may decrease risk of iatrogenic fractures of the radius compared to broaches.3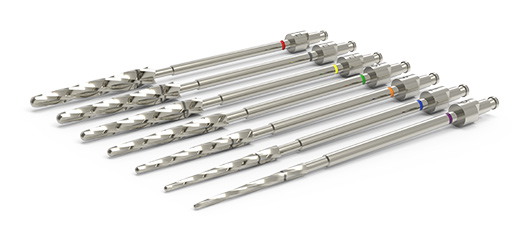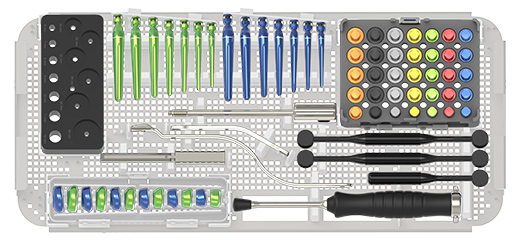 In a continued effort to provide the most comprehensive radial head fracture solution on the market, Anatomic Radial Head Solutions 2 offers our Anatomic Radial Head prosthesis, Radial Head Plating System, and Acutrak 2 System in one tray.
Features include:
Rigid container system compatibility
Full tray modularity, allowing for three packaging options for size- and weight-restricted markets
Updated caddies and instrumentation, including K-wire measuring gauges for enhanced ease of use
1. Bachman DR, Thaveepunsan S, Park S, Fitzsimmons JS, An KN, O'Driscoll SW. The effect of prosthetic radial head geometry on the distribution and magnitude of radiocapitellar joint contact pressures. J Hand Surg Am. 2015;40(2):281-288.
2. Sahu D., et al.,Influence of radial head prosthesis design on radiocapitellar joint contact mechanics., J Shoulder Elbow Surg. 2014.23(4): 456–462. doi: 10.1016/j/jse. 2013.11.028.
3. Shukla, D.R., et al., Canal preparation for prosthetic radial head replacement: rasping versus reaming, J Shoulder Elbow Surg. 2013. 22(11): 1474–9