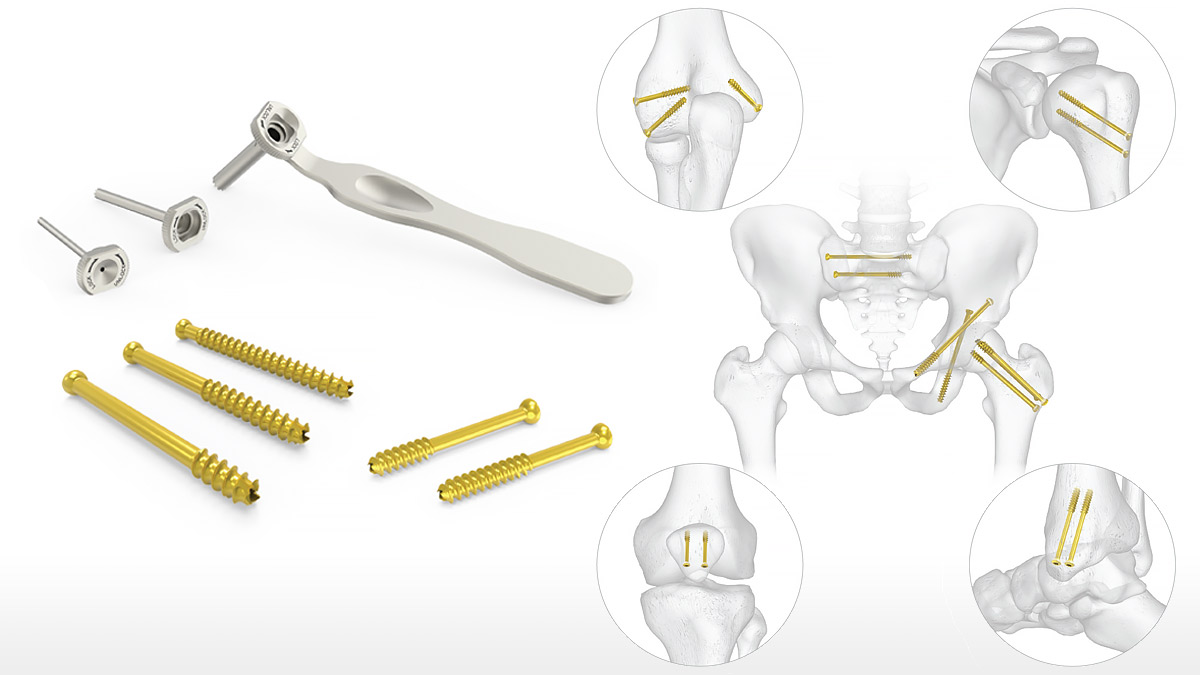 Product Overview
The Acumed Cannulated Screw System consists of screws, washers, and instruments designed to provide fixation for fractures, fusions, and osteotomies of large and small bones appropriate for the size of the device. The screws are available in three diameters (4.0 mm, 6.5 mm, and 7.3 mm), in lengths ranging from 30 mm to 150 mm to accommodate various indications and patient anatomy. All screws and washers are made of titanium alloy per ASTM F136. All implants are available nonsterile.
Partially threaded screws may be used to lag one bone fragment to another, where the bone fragment is captured by the threads of the screw and pulled toward the near cortex fragment on the head side of the screw. Fully threaded screws are intended to be used to stabilize fractures with little to no compression across the fracture.
The cannulated screws and instruments also allow for minimally invasive percutaneous insertion. The Cannulated Screw System is commonly used in the hip, pelvis, knee, ankle, and foot.
Wide range of screw lengths address a variety of fracture patterns
Reverse cutting flutes are designed to assist in the removal of partially threaded screws (not included on some short
thread 4.0 mm screws)
Both threaded and fluted guide wires may assist the surgeon in targeting and establishing provisional fixation
Both partially and fully threaded screws with a cancellous thread form are intended to treat a variety of fracture patterns
Fully threaded screws are designed to maintain the compression generated during provisional fixation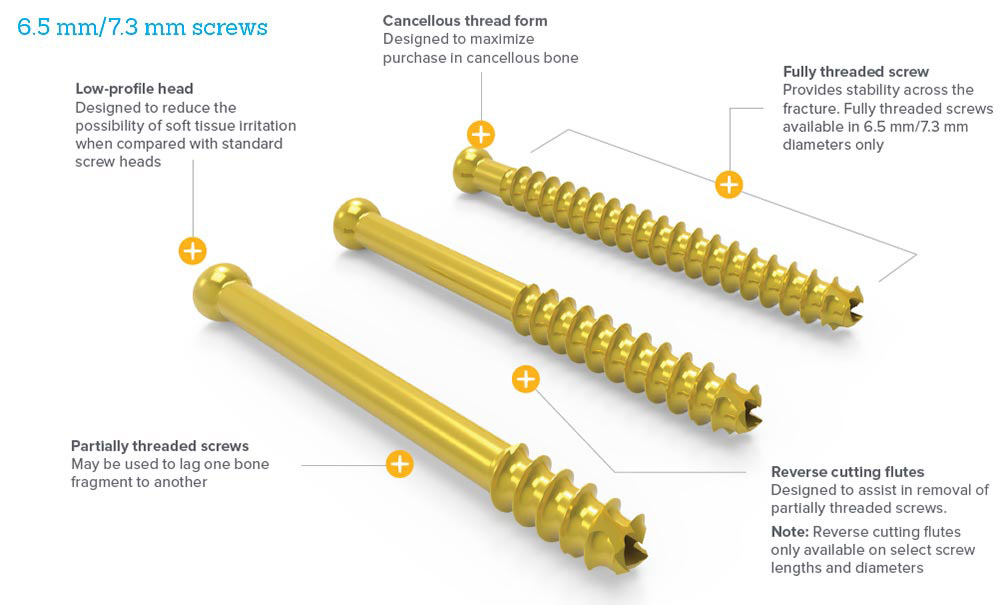 4.0 Screw Instrument Features
Locking Flip-Up Caddy
Contains core implantation instruments in an upright orientation with integrated locking feature designed for maximum stability on the back table.
Implantation instruments shown in the upright position.
Integrated metal locking feature automatically engages when the caddy is in the upright position.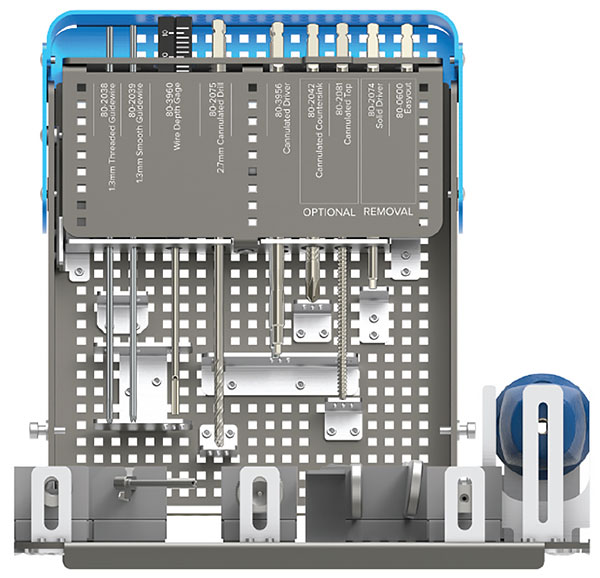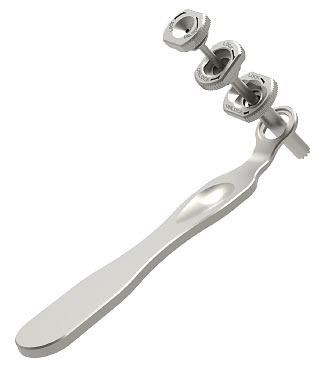 TripleTwist™ Cannula System
This modular cannula system is designed to protect the soft tissues and support a minimally invasive procedure.
The cannulas feature an intuitive locking mechanism and are stacking and interchangeable to streamline the procedure.
The cannulas can be used singularly or sequentially for flexibility and to accommodate procedural variations over nonstacking cannulas.
Parallel Wire Guide
Allows placement of two parallel wires. The drop-in cannula can be assembled after initial wire placement, then adjusted to select the optimal distance between wires and ultimately screw fixation.
Medial Malleolus Fixation using the 4.0 mm Cannulated Screw System with Jeffrey S. Feinblatt, MD, PC
In this lab, Dr. Jeffrey S. Feinblatt highlights his technique for installation of parallel 4.0 mm Cannulated Screws to address a fracture of the medial malleolus.
Product Training Series - 4.0 mm Cannulated Screw System Key Features
This video provides highlights of the system's key features.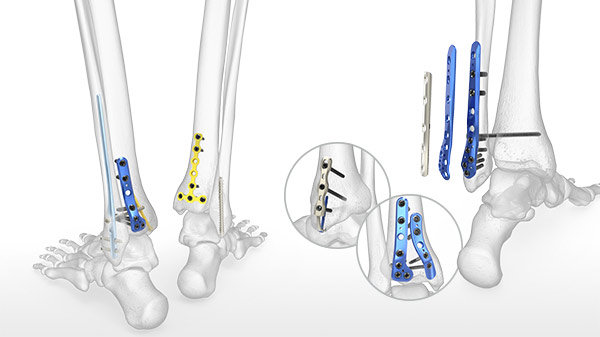 Solutions for Simple to Complex Trimalleolar Injuries
Trimalleolar fractures involve the lateral malleolus, the medial malleolus, and the posterior malleolus. See how Acumed Foot and Ankle products provide solutions to treat these often challenging cases. Watch video, see clinical and biomechanical evidence, and explore case studies.
Explore Acumed Trimal Fracture Solutions
Sizing & Potential Applications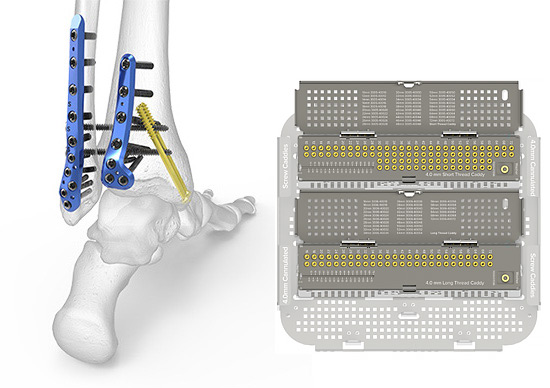 Short Thread (1/3 threaded)
· 10-60 mm in 2 mm increments
· 60-72 mm in 4 mm increments

Long Thread (1/2 threaded)
· 16-60 mm in 2 mm increments
· 60-72 mm in 4 mm increments
Cannulated Screw Washer
7.0 mm OD x 3.6 mm ID
| | |
| --- | --- |
| Anatomy | Foot | Ankle | Knee | Pelvis | Wrist | Elbow | Shoulder |
Potential Applications

· Medial malleolar fractures
· Posterior malleolar fractures
· Ankle
· Tibia
· Elbow
· Humerus
· Pelvis
· Femur
· Calcaneus
· Midfoot
· Forefoot
Guide Wire Size

1.3 mm Threaded Guide Wire, 150 mm (80-2038)
1.3 mm Smooth Guide Wire, 150 mm (80-2039)
Drill Size
2.7 mm Cannulated Drill, Quick Connect (80-2075)
Driver Size
2.5 mm Short Cannulated Hex Driver (80-3956)
Washer Size
7.0 mm Outer Diameter (OD) x 3.6 mm Inner Diameter (ID) (7003-07036)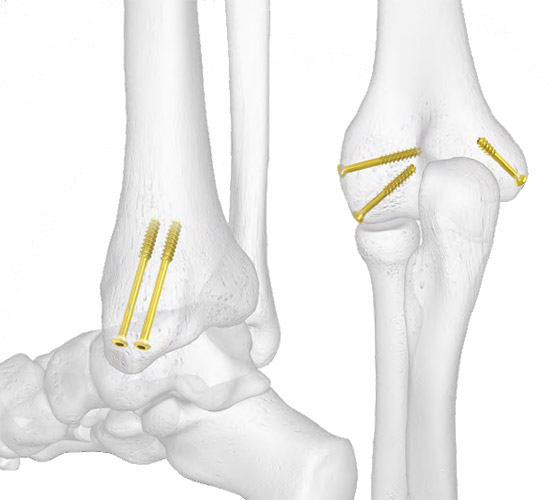 Short Thread (16 mm)
30-150 mm
Long Thread (32 mm)
45-150 mm
Full Thread
(30-150 mm)
Cannulated Screw Washer
13.0 mm OD x 6.7 mm ID
Anatomy
Hip | Pelvis | Knee | Ankle | Foot
Potential Applications
· Femoral neck and head fracture
· Tibial plateau and femoral intercondylar fractures
· Ankle arthrodesis
· Subtalar arthrodesis
· Triple arthrodesis
Accommodating Guide Wire
(Diameter x Length)
· 2.8 mm (.110") x 300 mm Threaded (80-1878)
· 2.8 mm (.110") x 300 mm Fluted (80-2535)
· 2.8 mm (.110") x 450 mm Threaded (80-2533)
Drill Size
5.0 mm Cannulated Drill (80-1871)
Driver Size
4.0 mm Cannulated Large Quick Release Hex Driver Tip (80-1874)
Washer Size
13.0 mm Outer Diameter (OD) x 6.7 mm Inner Diameter (ID) (7003-13067)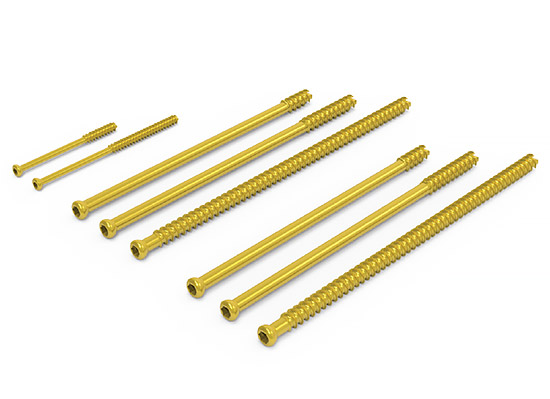 Short Thread (16 mm)
30-150 mm
Long Thread (32 mm)
45-150 mm
Full Thread
(30-150 mm)
Cannulated Screw Washer
13.0 mm OD x 6.7 mm ID
Anatomy
Hip | Pelvis | Knee | Ankle | Foot
Potential Applications
· Femoral neck and head fractures
· Acetabular fracture
· Sacroiliac joint disruption
· Calcaneal fracture
· Ankle arthrodesis
· Subtalar arthrodesis
Accommodating Guide Wire
(Diameter x Length)
· 2.8 mm (.110") x 300 mm Threaded (80-1878)
· 2.8 mm (.110") x 300 mm Fluted (80-2535)
· 2.8 mm (.110") x 450 mm Threaded (80-2533)
Drill Size
5.0 mm Cannulated Drill (80-1871)
Driver Size
4.0 mm Cannulated Large Quick Release Hex Driver Tip (80-1874)
Washer Size
13.0 mm Outer Diameter (OD) x 6.7 mm Inner Diameter (ID) (7003-13067)