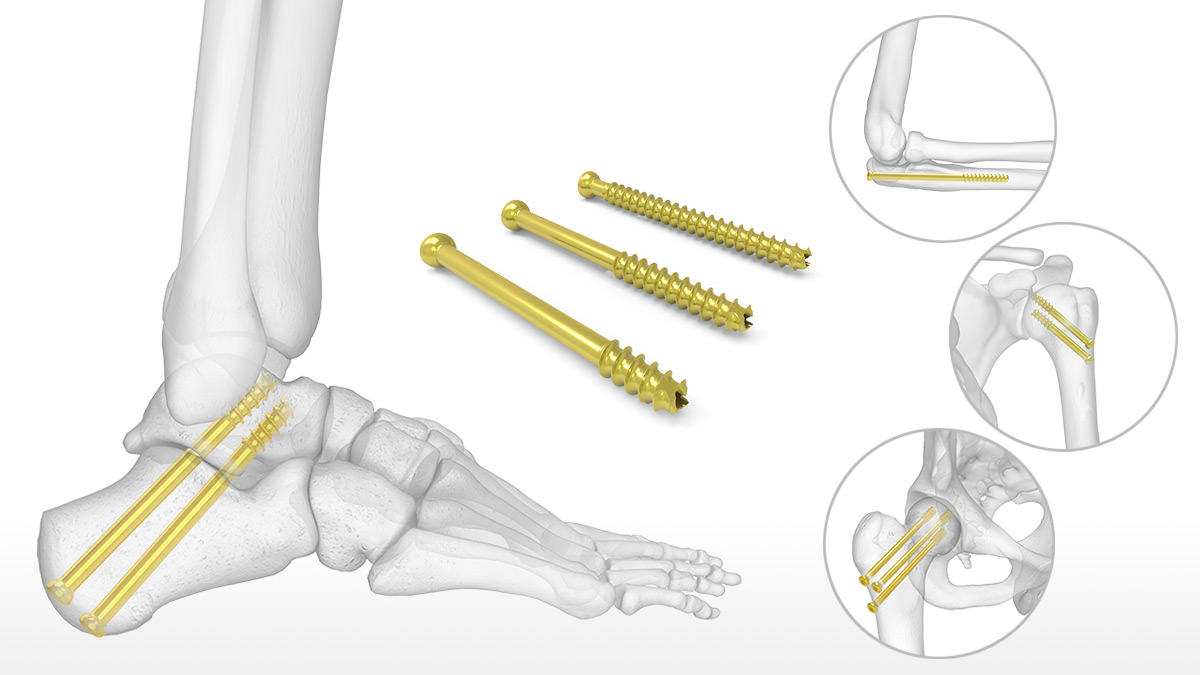 Product Overview
The Acumed Cannulated Screw System is intended for fixation of fractures, fusions, and osteotomies of large and small bones appropriate for the size of the device. All screws are cannulated in order to be used over a guide wire, and each screw is either partially or fully threaded using a cancellous thread form.
Partially threaded screws may be used to lag one bone fragment to another, where the bone fragment is captured by the threads of the screw and pulled toward the near cortex fragment on the head side of the screw. Fully threaded screws are intended to be used to stabilize fractures with little to no compression across the fracture.
The cannulated screws and instruments also allow for minimally invasive percutaneous insertion. The Cannulated Screw System is commonly used in the hip, pelvis, knee, ankle, and foot.
Designed to Be Minimally Invasive

A study showed that minimally invasive, percutaneous screw fixation, using 6.5 mm cannulated screws, reduces length of hospital stay and cost, and enables early mobilization for tibial plateau fractures.1

A Traditional Approach to Fracture Management

The rising cost of health care and bundled payment systems are driving the use of low-cost options like cannulated screws. In nondisplaced fractures, screws may provide equal clinical outcomes over higher cost options.

Low-Profile Head

Designed to reduce soft tissue irritation when compared with standard screw heads.

Reverse Cutting Flutes

Designed to assist in removal of partially threaded screws (not available on some short-thread 4.0 mm screws).

Self-Tapping Screw Tip

Designed to facilitate insertion and may eliminate the need for tapping in some cases.
Sament R, Mayanger J, Tripathy S, Sen R. Closed reduction and percutaneous screw fixation for tibial plateau fractures. J Orthop Surg. 2012;20(1):37-41.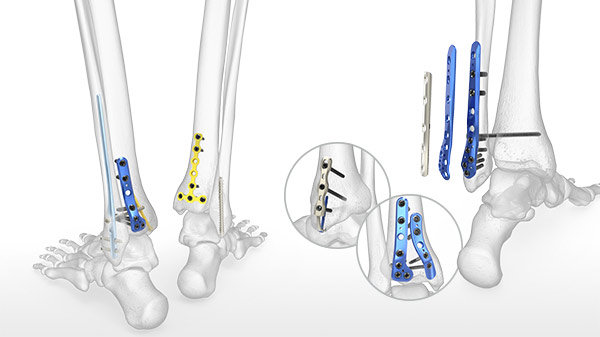 Solutions for Simple to Complex Trimalleolar Injuries
Trimalleolar fractures involve the lateral malleolus, the medial malleolus, and the posterior malleolus. See how Acumed Foot and Ankle products provide solutions to treat these often challenging cases. Watch video, see clinical and biomechanical evidence, and explore case studies.
Explore Acumed Trimal Fracture Solutions
Sizing & Potential Applications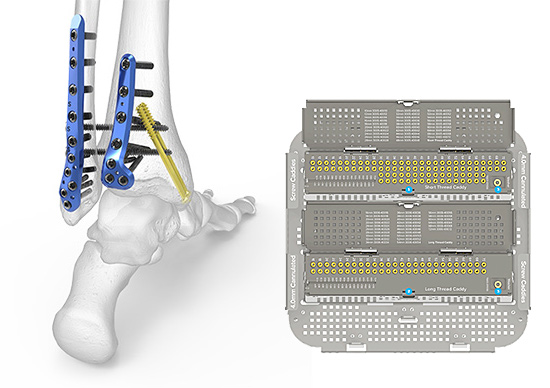 4.0 mm cannulated screws are included in the Ankle Plating System 3 tray in lengths of 36 mm, 42 mm, and 48 mm. Additional lengths of 4.0 mm cannulated screws are approved for use with the Ankle Plating System 3 and are housed in standalone 4.0 mm Cannulated Screw Caddies. All 4.0 mm screws use the instruments within the Ankle Plating System 3.
Short Thread (1/3 threaded)
· 10-60 mm in 2 mm increments
· 60-72 mm in 4 mm increments

Long Thread (1/2 threaded)
· 16-60 mm in 2 mm increments
· 60-72 mm in 4 mm increments
Potential Applications
· Medial malleolar fractures
· Posterior malleolar fractures
Accommodating
Guide Wire

1.3 mm (.05") x 150 mm non-threaded (80-2039)
Drill Size
2.7 mm Cannulated Drill, QC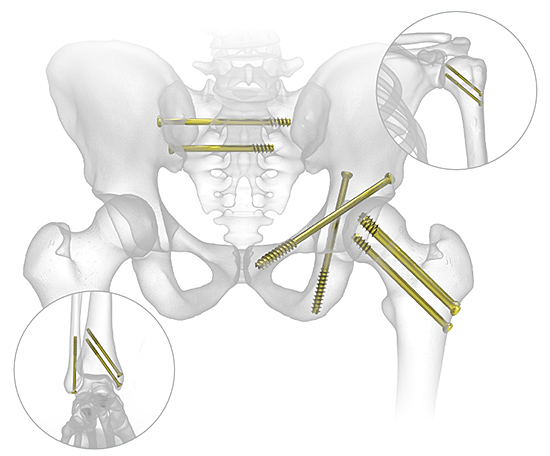 Short Thread (16mm)
30-150mm
Long Thread (32mm)
45-150mm
Full Thread
(30-150mm)
Anatomy
Hip | Pelvis | Knee | Ankle | Foot
Potential Applications
· Femoral neck and head fracture
· Tibial plateau and femoral intercondylar fractures
· Ankle arthrodesis
· Subtalar arthrodesis
· Triple arthrodesis
Accommodating Guide Wire
(Diameter x Length)
· 2.8 mm (.110") x 300 mm Threaded (80-1878)
· 2.8 mm (.110") x 300 mm Fluted (80-2535)
· 2.8 mm (.110") x 450 mm Threaded (80-2533)
Drill Size
5.0 mm Cannulated Drill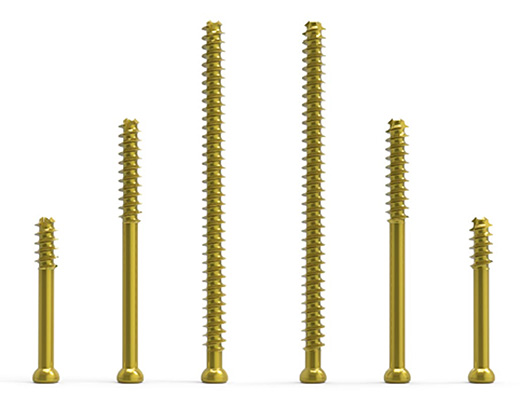 Short Thread (16mm)
30-150mm
Long Thread (32mm)
45-150mm
Full Thread
(30-150mm)
Anatomy
Hip | Pelvis | Knee | Ankle | Foot
Potential Applications
· Femoral neck and head fractures
· Acetabular fracture
· Sacroiliac joint disruption
· Calcaneal fracture
· Ankle arthrodesis
· Subtalar arthrodesis
Accommodating Guide Wire
(Diameter x Length)
· 2.8 mm (.110") x 300 mm Threaded (80-1878)
· 2.8 mm (.110") x 300 mm Fluted (80-2535)
· 2.8 mm (.110") x 450 mm Threaded (80-2533)
Drill Size
5.0 mm Cannulated Drill