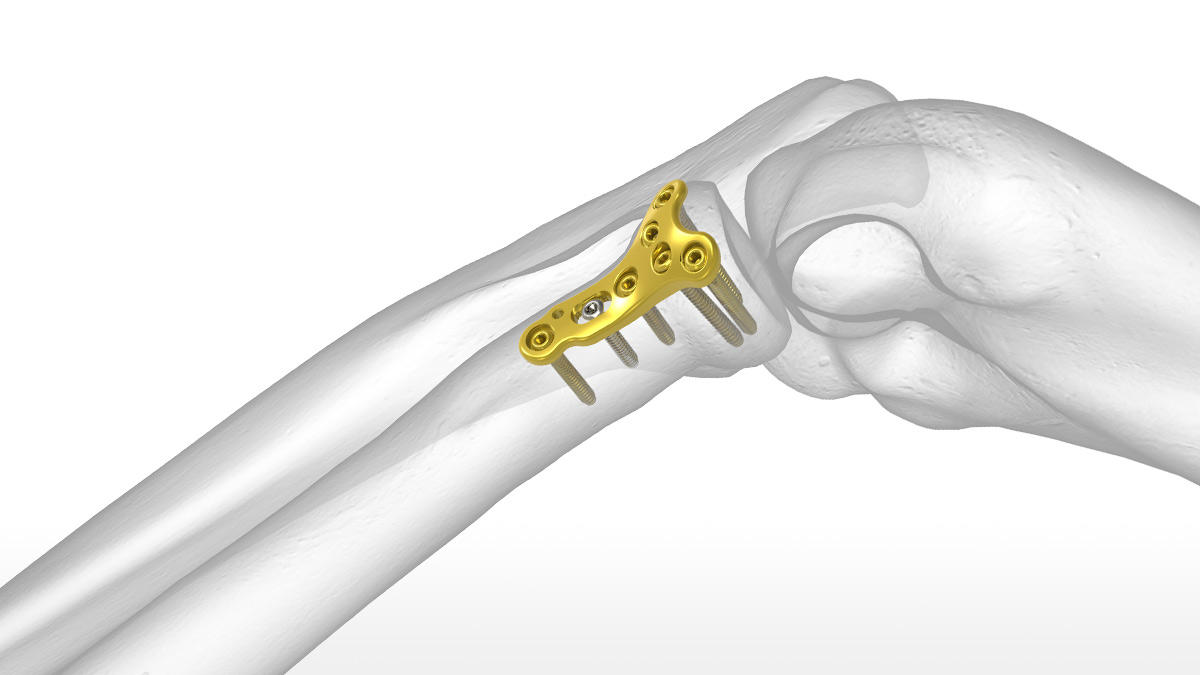 Product Overview
The Acumed Radial Head Plating System provides an innovative method for the treatment of fractures when the radial head is salvageable. This versatile system of precontoured plates is designed for use in the radial head's "safe zone" and features a straightforward surgical technique that may save time in the surgery room.
A straightforward solution

The system offers a straightforward solution when the radial head is salvageable. Two lengths and two head curvatures provide options for varying patient anatomy and fracture patterns.
(mobile users tap to show/animate)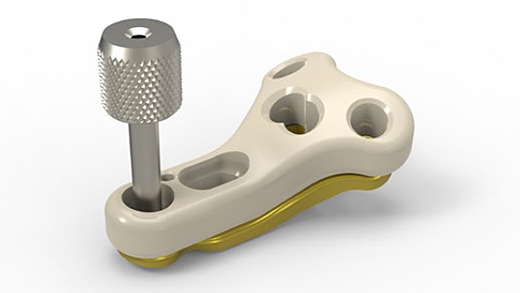 A radiolucent targeting guide is included in the Radial Head Plating System to assist with threading the locking drill guide into the proximal locking holes. Screw length is determined with either the laser marking on the drill bit or with the depth probe, allowing depth measurement to be read directly off of the drill guide.
K-wire holes are included in the plate for provisional fixation distally, and specially designed plate tacks may be used for provisional fixation proximally. The benefit of the short length of the Plate Tack is that it is designed to not interfere with the drilling and placement of the proximal screws.
The distal tip of the Plate Tack is threaded, allowing it to maintain its provisional fixation until it is removed later in the procedure.
Multi-purpose Solutions Tray
The Anatomic Radial Head System, which also accommodates the Acutrak 2 Mini and Micro Headless Compression Screw systems, and all necessary instrumentation fit inside the same tray to allow for ease preoperative assessment.
The Radial Head Plating System may be combined with any of the Acumed anatomic radial head replacement systems and may be found at the bottom of the tray. It may also be brought in as a stand-alone system at the surgeon's request. The Acutrak 2 Mini and Micro Headless Compression Screw instrumentation is also found at the bottom of each radial head replacement system tray, expanding the treatment options for the surgeon.