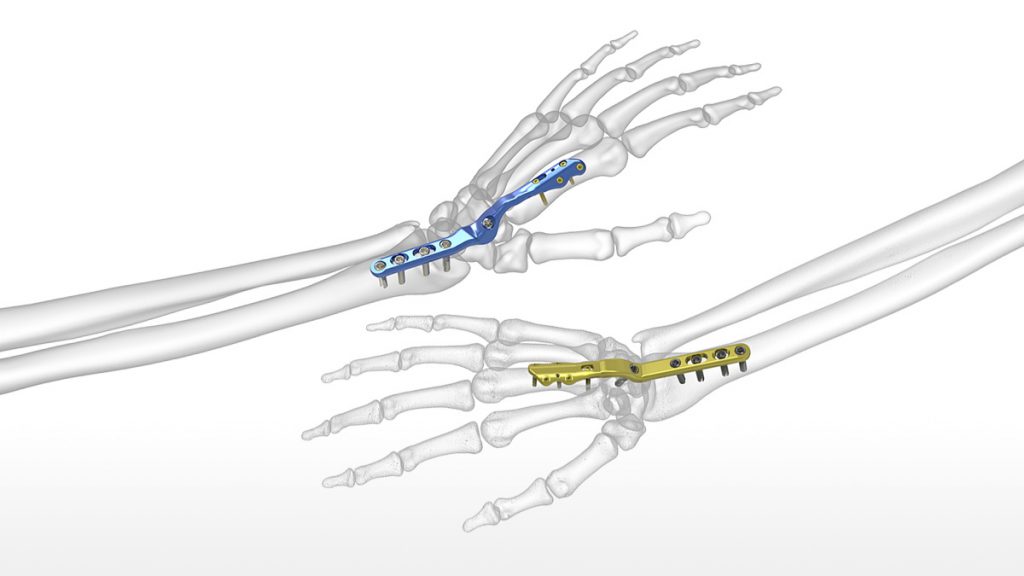 Acumed Introduces New Solution to Help Treat Post-Traumatic Arthritis: Total Wrist Fusion Plating System
Designed to reduce the risk of soft tissue irritation associated with traditional wrist fusion plates, Acumed's new Total Wrist Fusion Plating System fuses the carpal bones together to treat post-traumatic arthritis.
The latest addition to Acumed's market-leading hand and wrist product portfolio, the Total Wrist Fusion Plating System is the only system currently on the market to offer plates specifically designed to be placed on both the second and third metacarpals.
"Traditional wrist fusion plates are placed on the long metacarpal with the screws placed posteriorly through the plate, potentially leaving rough edges which could cause extensor tendon irritation" says William B. Geissler, M.D., Professor of Orthopaedic Surgery at the University of Mississippi Medical Center, the system's design surgeon. A functional assessment of traditional fusion plates, as published in the Journal of Hand Surgery supports this observation, stating that "sixty-five percent of patients required [traditional] plate removal for discomfort or interference with the extensor tendons."1 Dr. Geissler went on to say, "I wanted to work with the engineers at Acumed to design a system of wrist fusion plates that were smooth dorsally where the distal screws came in from the sides with the option to place on either the index or long metacarpal to minimize soft tissue irritation."
Provided in two sizes, the plates come as left-right specific and neutral, to accommodate varying patient anatomies. All plates have a 15° dorsal bend, established as a balance between anatomic resting position, hand function, and grip strength.
To enhance the operating room experience, this system includes Hexalobe MultiScrews and the SaveLock Compression Sleeve. The Hexalobe MultiScrews act as nonlocking screws when inserted into the unthreaded slots and locking screws when inserted into threaded holes. The SaveLock Compression Sleeve engages with the screw head, reducing the plate to the bone by preventing the screw from locking into the plate until the SaveLock Compression Sleeve is disengaged.
"We pride ourselves on being a comprehensive solution provider for the Hand and Wrist" says Rich Rice, Vice President of Extremities, Trauma, and Biologics, "Surgeons have come to trust Acumed to deliver products that are designed to better fit the patient's anatomy and offer a more straightforward surgical technique."
The Total Wrist Fusion Plating System is preceded by Acumed's market leading line-up of solutions for hard to treat indications of the hand and wrist, including but not limited to: fractures of the scaphoid ( Acutrak 2 Headless Compression Screw), fractures of the distal radius (Acu-Loc 2 Plating System), carpal instability (The SLIC Screw System) and osteotomies of the ulna (Ulna Shortening Plate).
Indications for Use
In addition to post-traumatic arthritis of the joints of the wrist, other indications for the Acumed Total Wrist Fusion Plating System include: Rheumatoid wrist deformities requiring restoration, Complex carpal instability, Post-septic arthritis of the wrist, Severe unremitting wrist pain related to motion, Brachial plexus nerve palsies, Tumor resection, and Spastic deformities.
1. Field J, Herbert TJ, Prosser R. "Total Wrist Fusion: A Functional Assessment." Journal of Hand Surgery. 1996 Aug;21(4):429-33. PubMed PMID: 8856527
###
About Acumed
Acumed is a global leader in developing innovative orthopaedic and medical solutions to improve patient care. Acumed has more than two decades of experience in the orthopaedic industry, founded in 1988, Acumed is headquartered in Hillsboro, Oregon, with offices and a distribution network throughout the world.
Availability
These materials contain information about products that may or may not be available in any particular country or may be available under different trademarks in different countries. The products may be approved or cleared by governmental regulatory organizations for sale or use with different indications or restrictions in different countries. Products may not be approved for use in all countries. Nothing contained on these materials should be construed as a promotion or solicitation for any product or for the use of any product in a particular way which is not authorized under the laws and regulations of the country where the reader is located. Specific questions physicians may have about the availability and use of the products described on these materials should be directed to their particular local sales representative. Specific questions patients may have about the use of the products described in these materials or the appropriateness for their own conditions should be directed to their own physician.