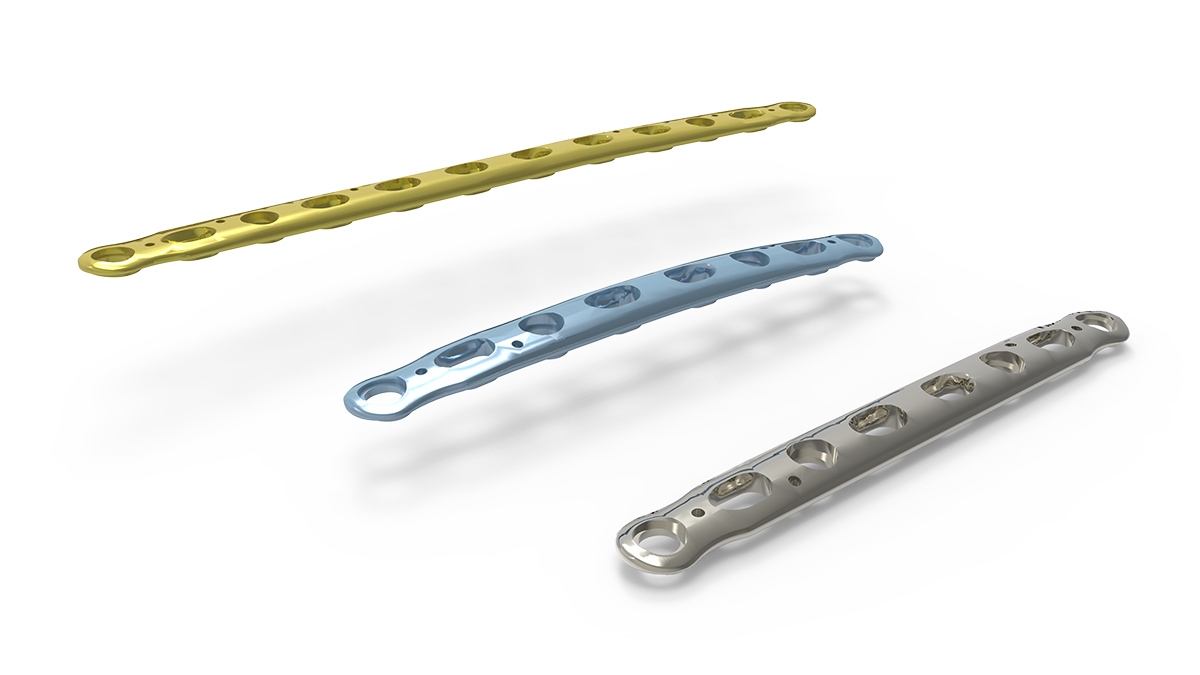 Product Overview
The Acumed Anatomic Midshaft Forearm Plating System offers marked hardware improvements over traditional straight plates. The system can be used to treat fractures, fusions, and osteotomies of the radius and ulna.
It can also be used in conjunction with the Acumed Forearm Rod System for a less invasive approach to both-bone fractures of the diaphyseal region.
The Anatomic Midshaft Forearm Plating System includes Midshaft Ulna Plates, Volar Midshaft Plates, and Dorsolateral Midshaft Radius Plates.
The First Precontoured Radius Plates

Due to the sagittal bow of the radius, plating with contoured plates in the sagittal plane improves rotation when compared with straight plates.1 For every 5 degrees of radial curvature that is not restored, the patient may lose 15 degrees of rotational motion.1

Two Contoured Radius Plate Options

Acumed offers two contoured radius plate options, including volar and dorsolateral approach options and an ulna plate.

Precontoured Plate Advantages

Precontoured plates may act as templates to restore forearm geometry, decrease surgery time in comparison to non-precontoured plates, and re-establish pronation and supination.

Plate Design Features

Tapered plate ends may reduce stress on bone and risk of secondary or subsequent fracture adjacent to the plate. A limited-contact under-surface minimizes contact with the periosteum to avoid disruption of blood supply.

Creative Instrumentation

Innovative instrumentation includes a swiveling plate clamp, an angled drill guide, and a soft tissue spreader to aid in plate implantation.
1. Stannard J, Schmidt A, Kregor, P. Surgical treatment of orthopaedic trauma. Injury. 2007;39(4):502.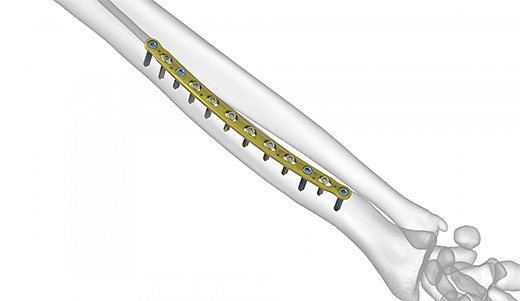 When used as templates, precontoured plates are intended to help restore forearm geometry and assist in reestablishing pronation and supination.
Dorsolateral Midshaft Radius Plates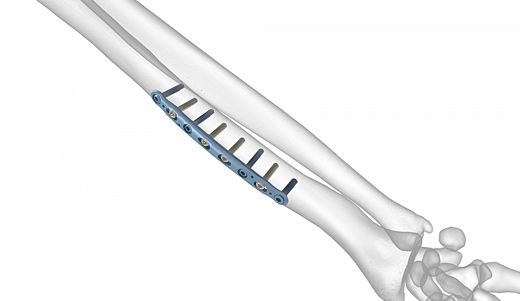 Precontoured plates are designed to help restore radial bow and may reduce the need for intraoperative bending, thereby reducing the risk of implant weakening that may come with bending of traditional implants.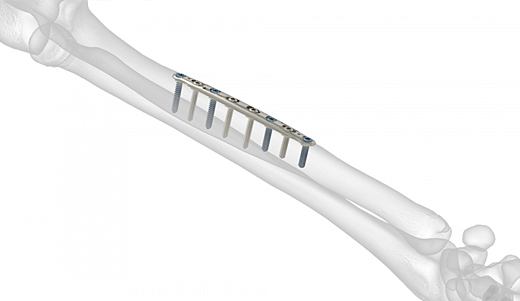 Acumed Anatomic Midshaft Forearm Plates offer features not found in traditional straight plates.
Case Series: Forearm Fractures
In this series of six case studies, Dr. Jared Salinsky uses the Acumed Anatomic Midshaft Forearm Plate System to treat patients with various fractures of the radius and/or ulna including a nonunion of midshaft, a displaced left ulnar fracture, a diaphyseal fracture of the ulna, a grade-2 open fracture, and acute radius and ulna fractures.
View Case Study Series