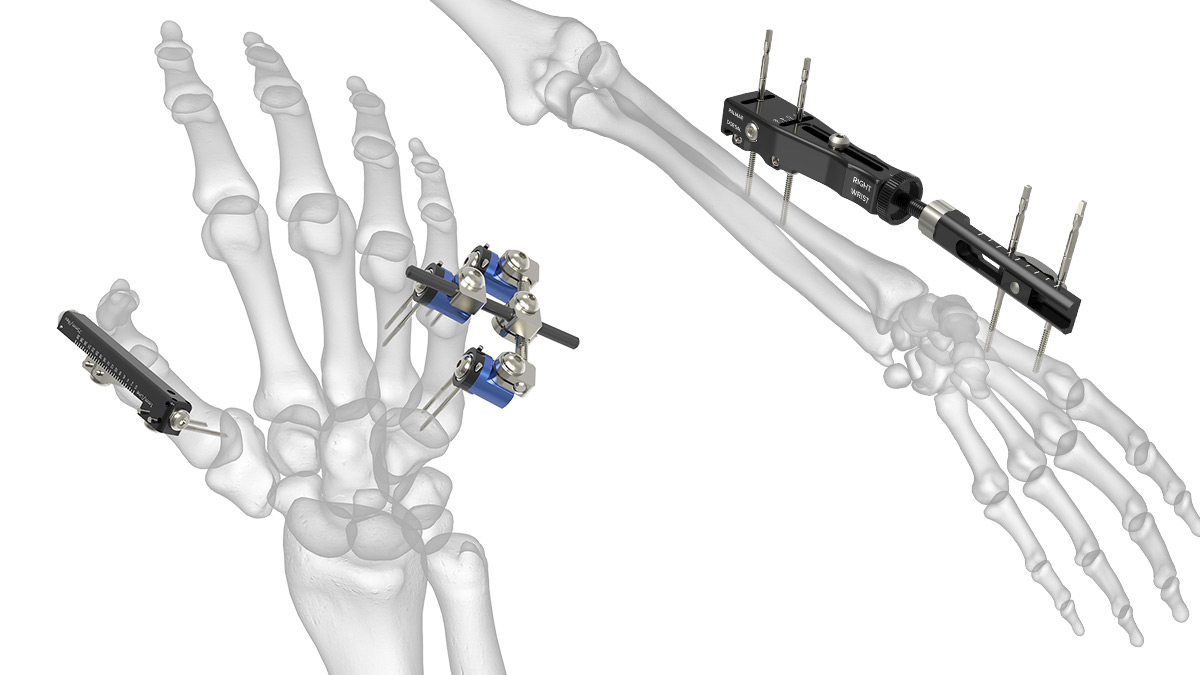 Product Overview
External fixation is a well-established technique for stabilizing a variety of fractures. The Acumed External Fixation System provides innovative fracture management solutions for the upper extremities through a dedicated line of external fixators.
From our distal radius fracture system, to our innovative small bone fixation and distraction units, each system has been designed to provide ease of application, stability, and fracture reduction.
Key Features
A Pair of Solutions for External Fixation
Designed for the temporary stabilization of the metacarpals and phalanges, the system combines a fixator that aids in reduction and compression with a device designed to maintain distraction forces during healing.
Distractor: Lengthening Treatment

The device provides distraction lengthening of the metacarpals and phalanges as part of treatment for fractures, fusions, and osteotomies.

Distractor: Adjustment Wheel

The adjustment wheel is designed to help achieve the desired amount of incremental distraction, up to 30 mm.

Fixator: Modular Design

K-wire pairs can be placed in any plane between medial/dorsal/lateral, while the rod clamps rotate to match wire placement.

Fixator: Rod Type Choice

Threaded stainless steel or carbon fiber rods offer versatility when building the fixator frame.
(mobile users tap to show/animate)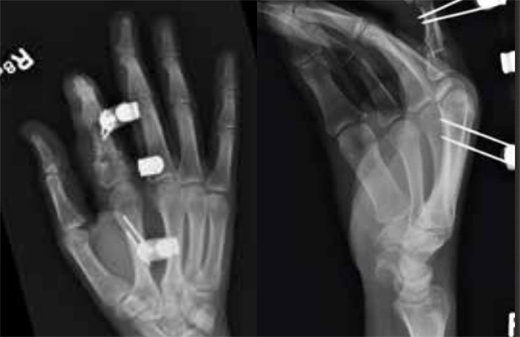 Phalangeal and Forearm Open Fractures Treatment with Internal and External Fixation Case Study:
A 34-year-old, right-hand-dominant male sustained a gunshot wound to the right forearm and index finger. He had palpable radial and ulnar pulses and immediate capillary refill in the tip of the index finger. His only neurological deficit was decreased sensation to light touch on the radial and ulnar aspects of the index finger. The patient had entrance and exit wounds on the volar and dorsal aspect of the index finger and forearm. Exam was limited by pain and concomitant injuries such that the tendon status of the index finger was not able to be evaluated. Radiographs demonstrated a highly comminuted radial shaft fracture and index finger proximal phalanx fracture. Forearm and hand compartments were soft and compressible.
Stableloc External Fixation System
Acumed offers the Stableloc External Fixation System for the treatment of complex distal radius fractures. The Stableloc External Fixator is designed to hold pins in place for fracture reduction or distraction to align the wrist and to provide ligamentotaxis to the wrist on a temporary basis while the distal radius heals.
Versatility allows surgeon to gain initial reduction with the fixator in place and then separately adjust only those planes needing correction. Adjustments may be made independently for distraction, radial/ulnar deviation, flexion/extension and dorsal/palmer translation. Radiolucent body aids in surgeon visualization during fracture reduction and distraction. The Stableloc External Fixator is designed to be lightweight. The sterile system includes all instruments and pins needed to complete a case and adjust the Stableloc External Fixator. 3.2 mm pins are designed as self drilling and come standard in the Stableloc kit.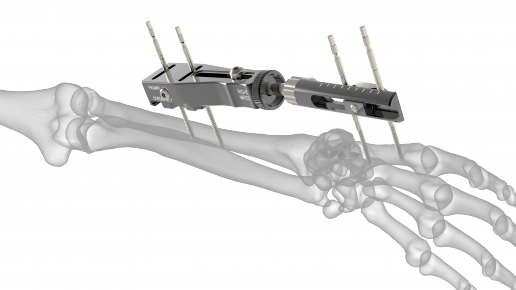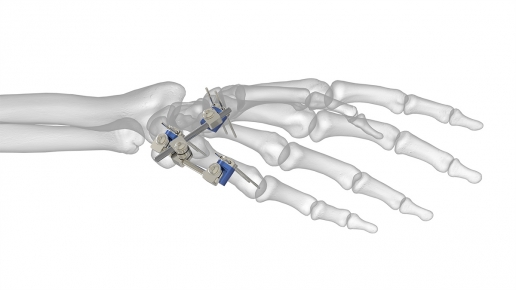 The Acumed Small Bone Fixator is an innovative solution for stabilizing fractures resulting from high-energy trauma, including fusions, osteotomies, open and/or comminuted fractures, infected nonunions, and fractures with length discrepancies.
The Small Bone Fixator System is simple to use, offers versatile pin placement options and stability, and is cost-effective.
The Small Bone Distractor is designed to aid with open or closed fractures, aseptic and infected nonunions, corrective osteotomies, length maintenance due to segmental bone loss, and distraction lengthening of the metacarpals and phalanges.
A removable handle on the Small Bone Distractor allows surgeons to easily manipulate the device, while minimizing X-ray exposure.