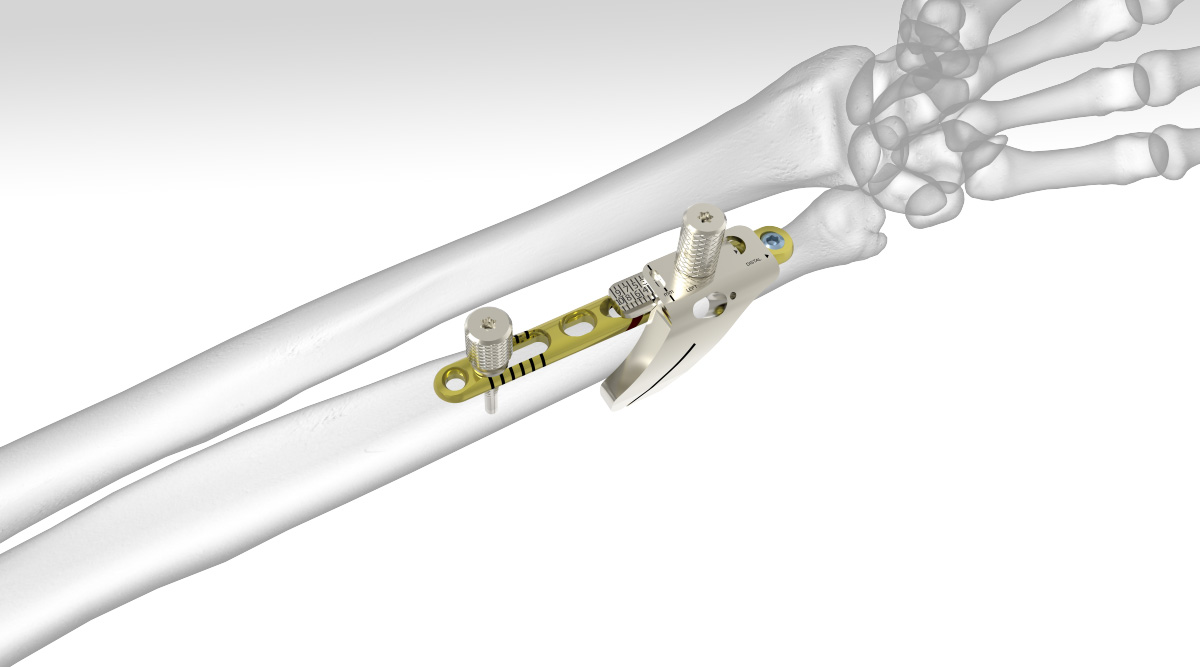 Product Overview
The Acumed Osteotomy System features the Ulnar Shortening Plate, with built-in osteotomy reference lines and a cutting guide. The system offers screws that sit below the plate surface when fully seated, and the interfragmentary lag screw can be placed in one of two locations to securely compress the osteotomy.
The Ulnar Shortening Plate is indicated for use in osteotomies of the ulna. The osteotomies may be done for Ulnar Impaction Syndrome due to ulnar-positive variance, DRUJ incongruity due to shortening of the radius, and traumatic and degenerative tears of the TFCC associated with positive ulnar variance.
A Streamlined Approach

Featuring the industry's first adjustable cutting guide, the Acumed Osteotomy system helped simplify the ulnar osteotomy, by eliminating the need for numerous cutting jigs.

Reference Lines

The reference lines on the Ulnar Shortening Plate help facilitate the creation of the osteotomy when a "free-hand cut" is preferred.

Cutting Guide

The cutting guide offers continuous adjustment from 1 to 10 mm, allowing a resection of the amount desired.

Reduction Clamp

The reduction clamp's speed-lock wheel is designed to help maintain hands-free compression.
(mobile users tap to show/animate)
This visual case study of a 26-year-old female with ulna impaction, presented by William Geissler, Professor and Chief, Division of Hand and Upper Extremity Surgery, University of Mississippi Medical Center, demonstrates the step-by-step process of an ulna shortening osteotomy using the Acumed Arc Wrist Traction Tower.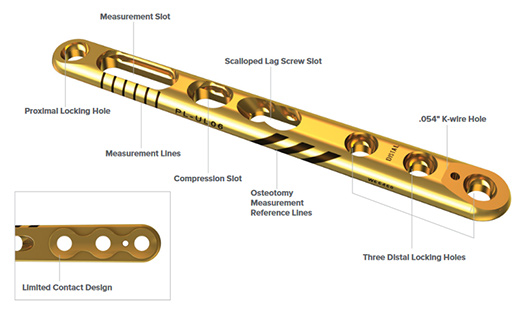 Built-in Osteotomy Reference Guides
Measurement reference lines on the side of the plate visually display the amount of shortening which can be obtained. Each 40° oblique laser line and spacing in between represents 2 mm of shortening. The perpendicular lines near the measurement slot are also spaced 2 mm apart and are designed to indicate the shortening obtained from the osteotomy.
The Ulnar Shortening Reduction Clamp (80-0423) utilizes a speed-lock wheel designed to maintain a hands-free compression of the osteotomy.
The multipurpose temporary Ulnar Shortening Reduction Peg (80-0422) is partially threaded to help ensure that the far cortex is not tapped prior to it being replaced by a screw. The peg is designed to stabilize the ulna and help maintain rotational alignment while creating the osteotomy prior to being used with the reduction clamp.