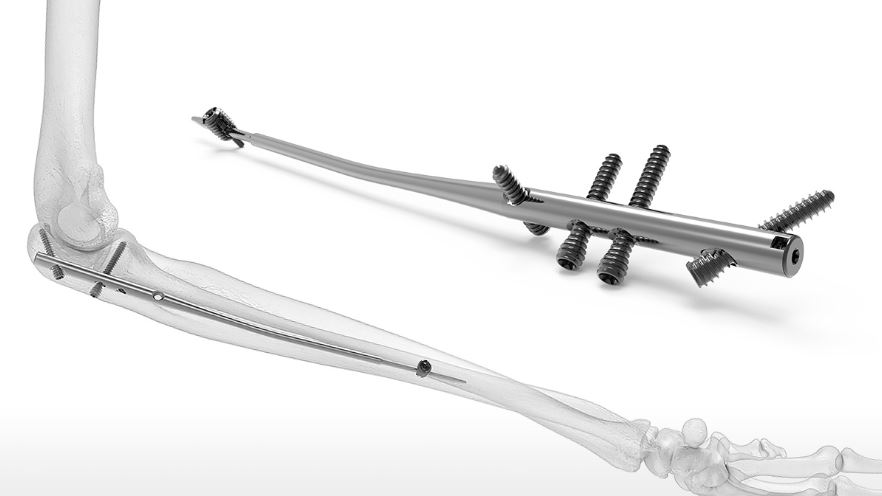 Acumed Launches the Ulna Nail 2 System to Offer More Choice in Treating Ulna Fractures
Acumed is pleased to announce the launch of the Ulna Nail 2 System, created to treat simple, transverse, and short oblique fractures, as well as osteotomies of the ulna.
The system is designed to provide a less invasive intramedullary approach to reduce soft-tissue irritation and preserve the osseous blood supply, which aids in fracture union compared to traditional open reduction internal fixation (ORIF). *
Designed in conjunction with Roy Sanders, MD, an orthopaedic surgeon in Tampa, FL, the Acumed Ulna Nail 2 is available in three diameters and seven lengths. The system offers a universal instrumentation base set, making it possible for one set to support multiple intramedullary nail families.
"The nails feature contouring to accommodate the shape of the intramedullary canal and are designed to address varying patient anatomy," said Milton Torres, Vice President, Hand and Upper Extremity at Acumed. "Our proprietary Tip-LocTM technology achieves stabilization of the nail's far end through a sized bushing and set screw combination, which allows for fracture rotation and length control."
"The Ulna Nail 2 System represents an advance in intramedullary nailing of the fibula and ulna with power reamers to allow for ease of insertion," said Dr. Sanders. "Additionally, Tip-Loc will allow surgeons to achieve a true double-locked nail, both proximal and distal to the fracture, with a sized implant that can more closely match the patient's anatomy."
The system also offers updated instrumentation, including carbon fiber radiolucent targeting guides to streamline the procedure, threaded holes within the nail for interlocking constructs, and low-profile, headless hexalobe screws.
"Acumed has a long history of delivering industry-first solutions designed to provide surgeons with in situ customization options to achieve optimal patient fit and restoration of function," said Sharon Wolfington, President and CEO of Acumed. "Acumed has the most complete selection of upper extremity fixation and specialty plates on the market.** And our new Ulna Nail 2 is a minimally invasive option that enhances our industry-leading portfolio."